Public Security and Fire Department
Our Services / Public Security and Fire Department
General information
The MRC-des-Collines-de-l'Outaouais Police is in charge of enforcing the law and entrusted with maintaining the peace and order within our territory.
For all emergencies, DIAL 911
For other calls (eg: police assistance for thefts, missing persons, etc.), they may be reached at 819-459-9911 or 1-888-459-9911.
To request documents, information, etc. call 819-459-2422 or 1-877-459-2422.
The police headquarters is situated at 7, Edwelweiss road in La Pêche.
To access the MRC des Collines-de-l'Outaouais Police Webside, click here.
In an emergency situation - in the event of a disaster
Are you ready?
In the event of a disaster in our area, response time of rescue teams could be affected.
To help you face the first 72 hours following an emergency situation, the Quebec public security offers a Guide to emergency preparedness on their Website . To view this guide, click here.
Also visit the Public Security Canada Website for these emergency measures.
Spring freshet and flooding
Support for home owners and tenants
How to stay tuned
Check the Municipality of Pontiac's Web site on a regular basis.
Subscribe to the Municipality's Facebook page. Facebook page de la Municipalité.
Keep listening for updates on the radio or TV.
Check the various web sites for trends regarding water courses'conditions like the Ottawa River Regulation Planning Board and the (french only) Sécurité publique du Québec ;
If you think you are in danger, call 911. 911.
Follow the safety instructions given by the authorities at all times.
Be well prepared
In order to reduce the probability of damage caused by flooding:
Remove all equipment, materials and toys that are not securely anchored;
Remove docks and boats from the water;
Block basement doors and windows with wood panels and sand bags. See sheet (in french only) Cross-section of a sandbag dike

;

Turn off your gas tanks (propane, fuel oil)
Take the necessary steps to protect your electric, gas or propane heaters;
Place your small fuel tanks in height;
Prepare your emergency kit and family emergency plan. Read the info What do to before a flood from the Quebec Government
Turn off the power! If the water has not yet flooded your basement but the flood is inevitable, turn off the power throughout the house to eliminate any risk of electrification or fire. Before doing so, make sure the floor is dry and that you are not leaning against any metal object. Then toggle the main switch to the off position. If the water has begun to invade the basement, DO NOT TOUCH ANYTHING and contact Hydro-Quebec immediately.
Familiarize yourself with the guide In case of flooding on the Government of Quebec Web site. It provides valuable prevention tips and instructions to follow before, during and after a flood.
During the flood
Have your emergency kit and family emergency plan at hand;
Be prepared in case of home evacuation;
Assist a neighbour or person in a vulnerable situation or in need of assistance;
Pay attention to wall and floor deformations. If this happens, evacuate immediately and contact 911;
Do you have to get out?
On foot, never cross a flooded area, the current could carry you away;
Never use a street if a sign indicates that it is closed;
If you are using your vehicle, make sure the water level allows it. drive slowly to avoid creating waves that could damage homes, avoid water puddles that could hide ground subsidence, invisible when submerged, and avoid crossing a bridge if the water is high or the current too strong.
Before you travel, check the condition of the roads by calling 511 or visiting the website www.quebec511.info ;
Use roads designated by safety officials and drive safely;
Respectez les consignes de sécurité transmises par les autorités Follow the safety instructions given by the authorities.
Return home after evacuation
Wait for the civil authorities to confirm that there is no longer any danger before returning home;
Return to your residence during the day, it is easier to see potential problems and dangers;
If your electricity has not been turned off before the flood, do not enter your home until a qualified electrician has determined that it is safe to do so.
The electrical panel must be cleaned, dried, inspected and tested by a qualified electrician to ensure it is safe.
You are not alone
After experiencing a disaster, pay special attention to your reactions and those of your loved ones:
Anxiety, frequent crying, distress;
Lack of energy or interest;
Aggression, impatience, intolerance;
Difficulty concentrating or confusion;
Increased use of alcohol or drugs.
Psychosocial assistance is available. Psychosocial intervention professionals are available to listen to you, support you, advise you and direct you to resources adapted to your needs or those of your loved ones. Contact Info-Social, number 811, and choose option 2 to speak to a professional. This free and confidential service is offered 24 hours a day, 7 days a week.
Permit application for an alarm system
If you are the owner of a building or tenant of a property where an alarm system is installed, this message is for you.
Pursuant to the municipal by-law governing the use of alarm systems, you must, since January 1, 2012, obtain a permit for you alarm system or update your personal information.
The permit is free of charge and is available on the web site of the Public Security Service MRC des Collines-de-l'Outaouais 
For those who already have a permit issued by their municipality, you must update your information. All information provided will be used to optimize the effectiveness of police response following the triggering of an alarm.
We wish to remind you that you are required to inform the Public Security of any changes to the coordinates of your contacts to be notified in case of the triggering of the alarm system.
Roadside service agreement
Health and social services
CLSC- Point of care in Quyon
1164, Clarendon Street, Quyon (819) 458-2848
Pontiac Hospital Centre
200 Argue Street, Shawville, Qc (819) 647-2211
Fire Department
SOPFEU
The mission of the Société de protection des forêts contre le feu (SOPFEU) is to optimize the protection of forests against fire in order to ensure the sustainability of the forest environment and at the best possible cost. Given the importance of natural resources and their economic impact, SOPFEU plays a leading role for the benefit of the entire community.
Legend
| | |
| --- | --- |
| LOW | |
| MODERATE | |
| HIGH | |
| VERY HIGH | |
| EXTREME | |
More details
In case of LOW and MODERATE danger, any fire is allowed.
In case of HIGH and VERY HIGH danger, only fires in an outdoor fireplace are permitted.
In case of EXTREME danger, all fires are prohibited.
Residents must respect this legend in accordance with the bylaws 01-04 and 18-RM-05. Failure to comply may result in a fine.
Our mission
The mission of the Pontiac Fire Department is to protect the lives and property of its citizens, to protect the environment by fighting fires, rescuing people from road accidents and other incidents, as well as assisting citizens in the event of a medical call, and by implementing a fire prevention and protection program to reduce the loss of human life and property throughout the Municipality.
Fire stations
Fire station #1 - Breckenridge sector / 1491, Route148
Fire Station #2 - Luskville sector / 2024, Route148
Fire Station 3 - Quyon sector / 24, Church Street
Fire safety coverage plan
According to the Fire Safety Act, regional authorities, that is, the regional county municipalities, in conjunction with local municipalities to which they are a part of, and in compliance with the orientations determined by the Ministry, must establish a fire safety coverage plan by setting protection objectives related to fire safety and the actions required to achieve them.
Click here to access the fire safety coverage plan.
Open fires
Open fires are allowed when the conditions provided in section 10.2 of the standardized bylaw 18-RM-05 are met.
Les seuls feux autorisés devront être faits dans une installation munie d'un pare-étincelles, B.B.Q. et doit être sous surveillance constante (art. 3.2).
Les feux de camp sont autorisés s'ils ne nuisent pas et sont au maximum de 4 pi x 4 pi. Il doit y avoir un moyen d'extinction rapide à proximité.
A form for the authorization for open fires must be duly filled out and returned to our office. To have access to the form, click here.
Note: Offenders will face a $300.00 to $1,000.00 fine.
Alarm systems
People who wish to install, or who already have an alarm system in their home or place of business, must fill out a form to that effect.
The MRC des Collines-de-l'Outaouais Public Security (Police department) will now manage this information. Please click here to access the form on-line.
Note: In the event of a false alarm, it is essential that you first call the 9-1-1 service before informing your alarm central. The 9-1-1 service will immediately call the Fire Department, thus avoiding unnecessary trips.
Fire prevention
The first one responsible is you! Here is a list of informative documents on fire prevention:
Fire Department Activity Reports (the following reports are available in French only)
(vacant position)
Director - Fire department
(vacant position)
Fire prevention officer
(pote vacant)
Safety officer
Daniel Groleau
Lieutenant
(vacant position)
Lieutenant
Anthony Savard
Lieutenant
Interested in becoming a volunteer firefighter?
The Municipality of Pontiac is accepting applications for a position as volunteer firefighter.
To apply for a firefighter position, please fill out the application form and send us the form once filled out, by email at emplois@municipalitepontiac.ca, or in person at the Town Hall front desk.
Your application will be treated as confidential. We thank you for your interest and will contact only those that are selected.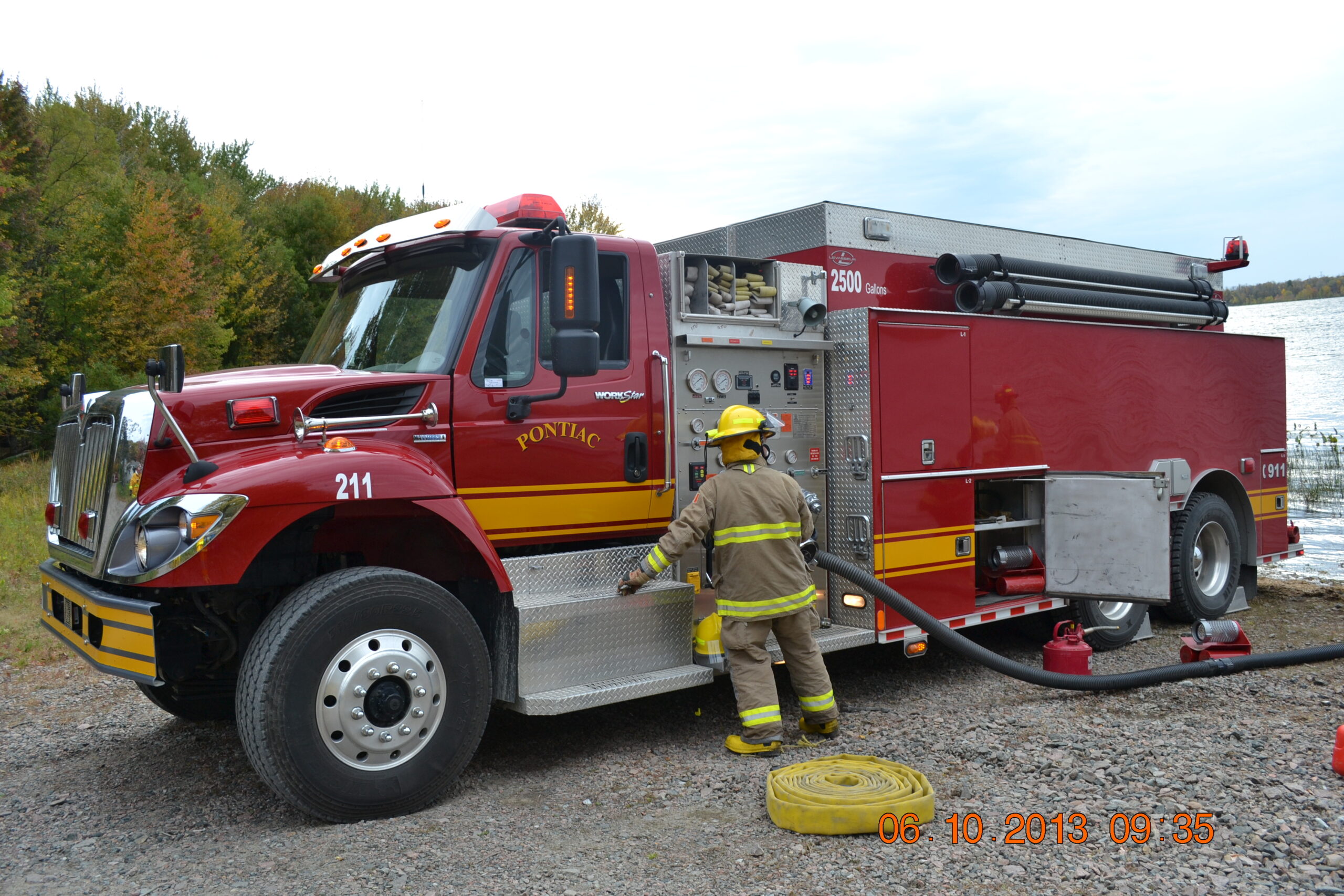 Minimum requirements
Candidates must meet the following minimum requirements.
To be eligible to apply for a firefighter position, the candidate:
must be eighteen (18) years of age or older;
must have a valid drivers' license;
to be eligible to drive the fire trucks, you must have a Class 4A drivers' license;
must not have a criminal history that may have a direct link to the function occupied within the fire department, unless a pardon has been given or you are in the process of receiving one from the responsible authorities;
will have gone through the interviews required by the Director;
the Director may also require that the candidate be deemed physically fit to become a firefighter, by a physician that is designated by the Municipality, if needed, following a physical exam;
must maintain the minimum physical condition required at all times to perform the work as a firefighter, and at the request of the Director, undergo a new medical examination as a confirmation of such physical condition.
Education
The candidate commits to following the "Firefighter 1" training program given by the Quebec National Firefighter School, and to pass the theoretical and practical exams.
The candidate commits to participating, at the very least, to fifty percent (50%) of the annual hours of training required, as part of the continued training program prepared by the Director, and in compliance with the National Firefighter School's training scheme.
Probationary period
Each candidate appointed member of the Fire Department as a firefighter, will have a probationary period of twelve (12) months. This period is equivalent to a staff assessment course and it may be extended upon the recommendation of the Director of the Fire Department.
Pre-screening procedure
The process for recruiting volunteer firefighters consists of the following stages:
Stage One - Application Process
Application forms will be accepted and kept on file until vacant positions are filled. The candidates are selected among those who work or live in proximity of the fire halls, in accordance with where the vacancies are.
Stage Two – Verification of criminal history and driver's record
A security verification is done and your driver's record is also verified.
Stage Three - Interviews
Interviews with candidates are done throughout the year as required, and if the number of candidates required justifies recruitment and training.
A physical or medical exam may be given at this stage.
Successful candidates
An offer will be issued once the four stages will have been successfully met, and all the required documents will have been received.
The municipal Council, upon recommendations from the Director of the Fire Department, will appoint the members of the department by way of a resolution.
If you are interested in submitting your application, please send your resumé, a covering letter and other pertinent documents to the attention of the Director of the Fire Department, dsip@municipalitepontiac.ca.